Mig Welding Booms & Arms
Advanced Mig Welding Systems
The WELDPRO 360 Mig Welding Boom is part of an advanced welding system that offers Total Coverage of the welding area. 
WELDPRO 360 Mig Welding Booms and Arms were developed to reduce or eliminate non-arc time welding related activities, shop floor clutter and safety issues for employees.  Welding output increases with productivity gains of up to 30% or more.  
Andersen Industries, Inc. manufactures the WELDPRO 360 in several models with various configurations for many different welding applications.
The Design
The design is built around the concept of placing all welding related equipment on the boom structure, allowing for un-tethered rotation.  It incorporates a vertical supporting column with a large diameter, base-mounted bearing, (a key component) for smooth and easy rotation of the boom even with multiple 1000 pound drums or boxes of welding wire.
There are two boom arms, a primary boom arm and a secondary arm.  A double-articulated joint arrangement connects the primary and secondary arms.  It is this double-articulated joint which allows the operator pendant to fold back toward the base, eliminating any welding dead zones common to other designs.  All welding equipment: the welding power supply, wire feeder, welder and wire feeder settings, inert gas, welding wire, weld boom controls and fume extraction system are mounted on the boom column or arms.  Mounting all the equipment on the boom allows the mig weld boom to rotate 360 degrees-that's right, it keeps on going-providing complete welding access and coverage anywhere within a 56 Foot [17 Meter] circular area.
There are No dead zones; No wasted time spent dragging the welder around; No tangled or cut cables; and No clutter on the shop floor.  Safety is improved and productivity soars!
Advanced System Controls
Key to any machine tool is the Operator Interface.  The WELDPRO 360 places all operator controls in a durable operator pendant within quick, easy reach of the weld operator.  As the weld boom is rotated to a new position, the pendant moves with it.  The operator pendant-and its location-is key to the  control and operation of the system.  It houses all welding controls, boom function, and optional fume extraction controls for weld center operation.  This puts complete system control within arms's reach of the welder.  Where he goes, it goes.  This fingertip accessiblility saves time, by allowing the operator to just reach over and change the weld settings, or rotate the weld boom to a new position.  Weld procedures are better followed and weld consistency and quality improves!
Advanced Process Welders
The WELDPRO 360 integrates state-of-the-art Advanced Process Welders from leading manufacturers.  These machines provide for remote controller and wire feeder locations separate from the power supply.  And they deliver unsurpassed control of the welding process.  The digital control interface gives fine process controls and programmable settings, enabling every operator to achieve superior welds.  These machines allow management to take control of the welding process, resulting in unsurpassed repeatablility-part to part, operator to operator and job to job.
No more time spent going back and forth to the controller trying to dial-in weld settings.  Figure it out once, lock the memory, and with the push of a button, the operator has the weld parameters to do the job, repeatabale every time.  This repeatabale consistency, regardless of which weld operator does the job, is a huge productivity enhancer.
Improved Weld Quality
Pulsed Mig is one of the many weld process capabilities, available with advanced process welders.  It minimizes distortion, reduces weld spatter and fumes.  This means you spend less time chipping, grinding and cleaning up the part.  Additionally, there is often a benefit of increased weld deposition rates.  Faster welding and a healthier environment for the welder are direct results that deliver a more profitable work center.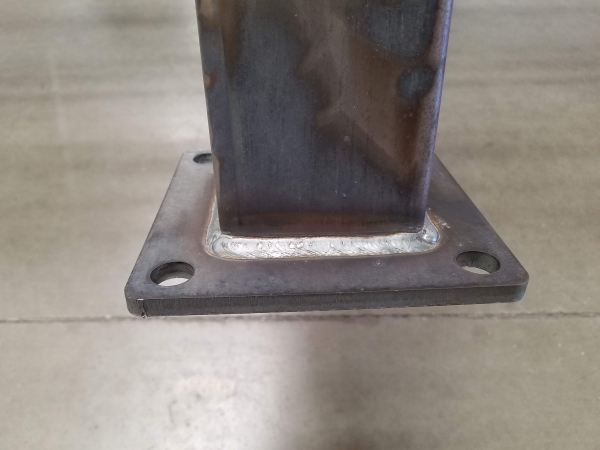 Cost savings, better quality, improved productivity and easier operation make Pulsed Mig a choice that should not be overlooked.
Is an Unlimited Rotation Boom providing 360 degrees of continuous bi-directional rotation, meaning you can go around and around in a circle without having to rewind or comeback. 
It is available in single or twin arm configurations.
Is a Limited Rotation Boom it provides 180-220 degrees of non-continuous, bi-directional rotation.  Its rotation is not-continuous and is limited because it does not have the slip-ring or rotary union that comes standard with the 360-UR model.  
It is also available in single or twin arm configurations.
Is a Limited Rotation Wall Mount Arm, designed for the customer to mount to an existing building wall or column.  The secondary arm raises and lowers the wire feeder 5'-6" (1.67M).  It rotates 360 degrees.  The primary arm (mounted to the wall or column) has a 192 degree maximum rotation.
It is available in 18' arm lengths, which gives you a 28' reach with a 15' mig gun. 
Videos