WeldPro 360 LRW 18P Mig Welding Arms
WELDPRO 360 LRW-18P Mig Welding Arms reduce or eliminate non-arc time welding-related tasks, shop floor clutter, and employee safety issues. They provide complete coverage anywhere within a 56' diameter semi-circular welding zone. The welding arm's main pivot assembly mounts to your existing building column, freestanding column, or the optional mobile base and column assembly.
There are two boom arms, a primary and a secondary. The primary arm is connected to the main pivot assembly which provides a maximum of 192° of semi-circle rotation on a horizontal plane.
Double-Articulated Joint Assembly
The primary and secondary arms are each connected to a double-articulated joint assembly.
This joint is unique to the WELDPRO 360 LRW-18P allowing the secondary arm to rotate 360° horizontally.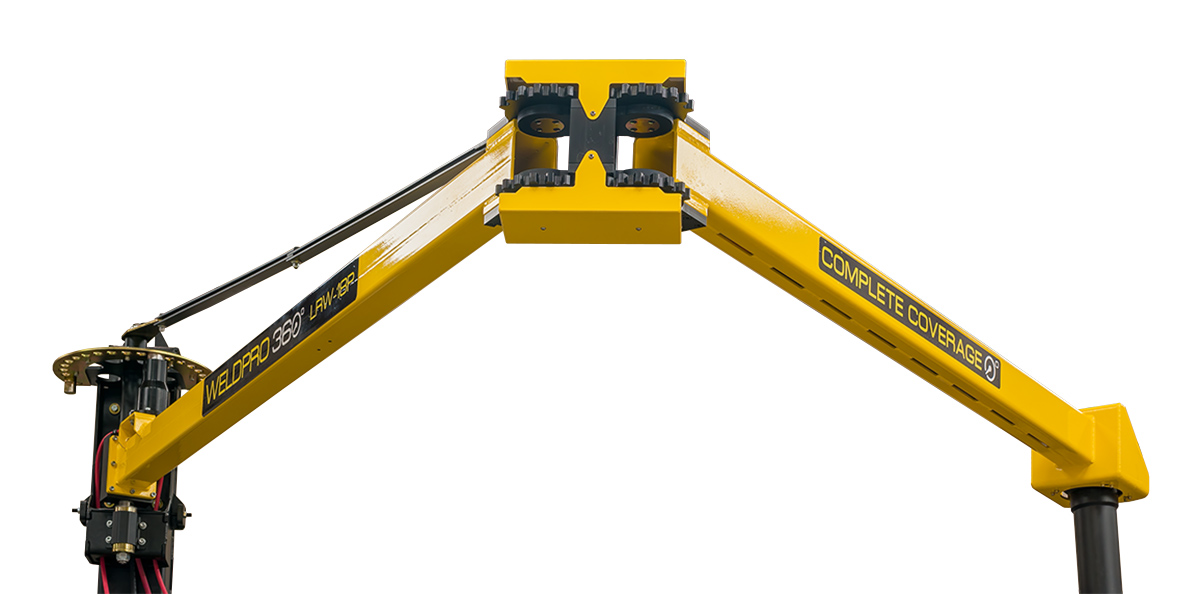 What's the difference between the WELDPRO 360 LRW-18P and the WELDPRO 360 LRW-18
Unlike the 360 LRW-18, the 360 LRW-18P does not raise and lower the secondary arm. Eliminating that function enables the 360 LRW-18P to use a simpler, less expensive double-articulating joint assembly. to connect the primary and secondary arms. The WELDPRO 360 LRW-18P's double-articulating joint assembly still provides a full 360 degrees of rotation for the secondary arm on a horizontal plane. Eliminating the raising and lowering capability; removed hydraulic, pneumatic, and electrical components offering a cost-effective choice for shops that don't have a need to raise or lower the secondary arm.
Boom control only requires 90 PSI of compressed air and a 20-amp 120V circuit for locking and unlocking the rotation of the primary arm.
The Wire Feeder is mounted on a pendant at the end of the secondary arm.
We recommend wire feeders that are capable of controlling the power supply remotely. Boom/Arm controls are placed within arm's reach of the operator increasing their productivity and safety.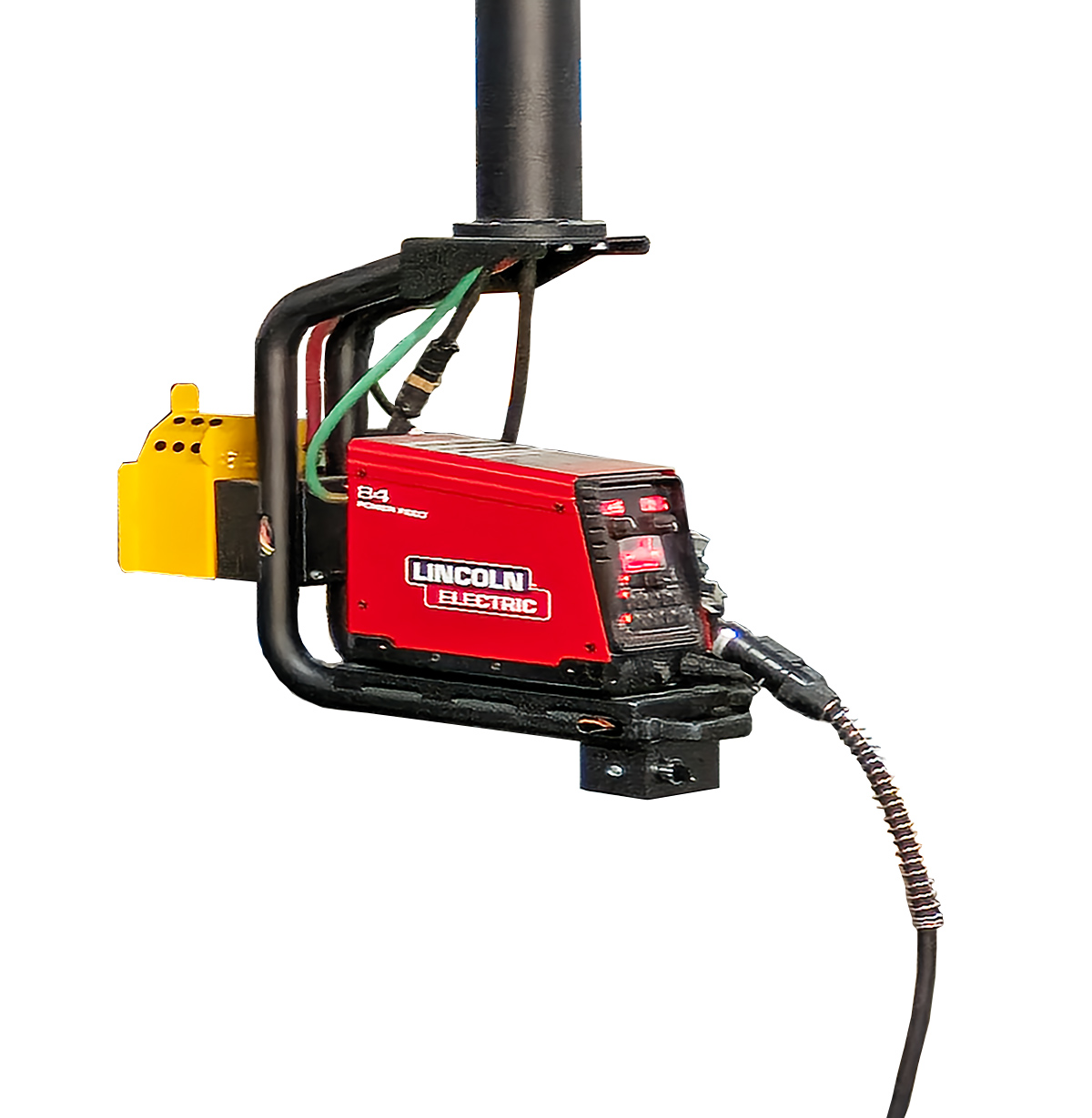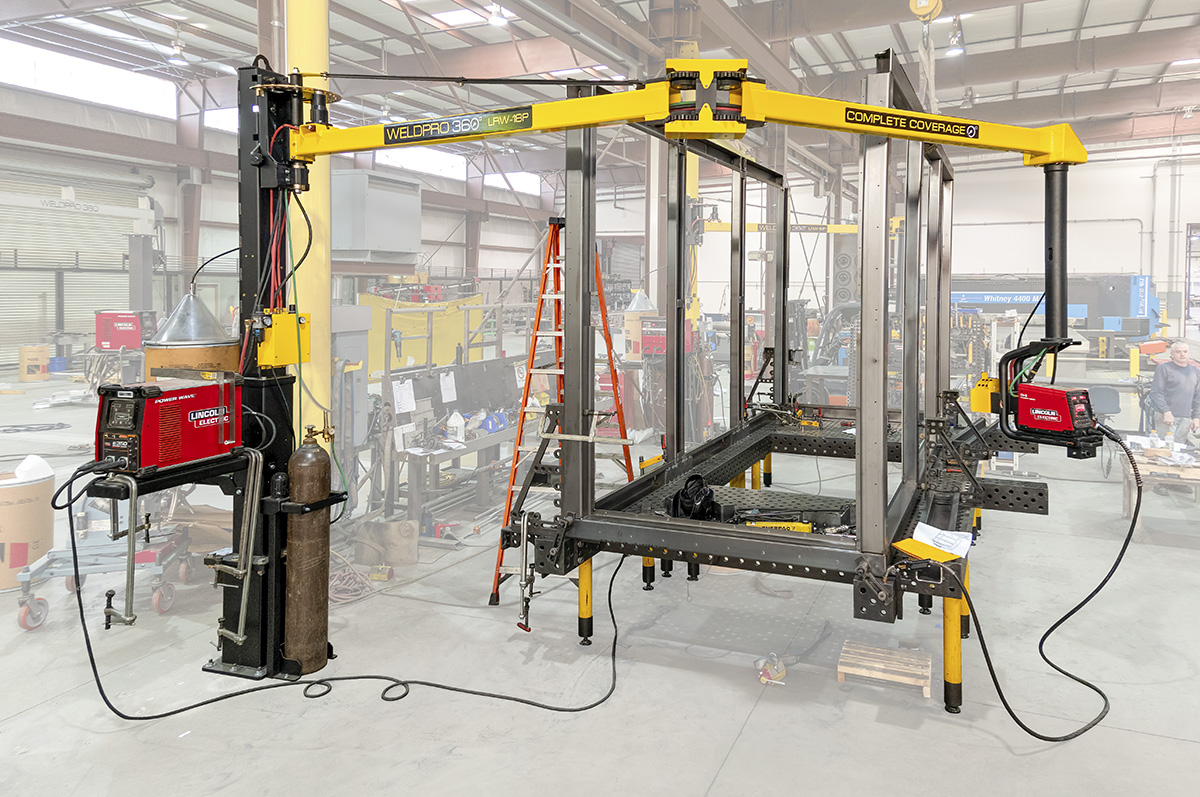 WELDPRO 360 LRW-18P brochure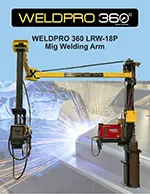 WELDPRO 360-LRW-18P Standard Features include:
192° of bi-directional rotation
Boom Arm Reach 36' diameter
Welding Reach - Anywhere with a 56' diameter semi-circle with a 15' Mig gun
Double Articulated Boom - Eliminates dead zones
Wire Liner Conduit for .035-.065 Wire
UL Listed Electrical Components
Powder Coated Finish
Productivity Advantages:
Reduced time spent on non-welding tasks
More time spent on welding
Clean, organized welding cell
Eliminates tripping hazards and shop floor clutter
Increased operator safety, motivation, and productivity
WELDPRO 360-LRW-18P Options:
Integrated Fume Extraction Systems that move with the welding arm.
Fume Extraction Guns – Air or Water Cooled
Welding Wire Enclosures for 60 Lb spools – keeps dust and dirt out of wire.
Floor Mounted Columns - with 8' or 10' Height under Welding Arm clearance
MOBILE BASE, WP360-LRW - 58" SQ x 119" H - includes:
423134 WLD, Mobile Base
422934 WLD 8' Column
422961 ASM, Gas Cylinder Mount
Contact Andersen Industries for WELDPRO 360 LRW-18P Mig WeldBooms and Arms
Request a Quote on our WELDPRO 360 LRW-18P Mig Weld Booms and Arms or additional welding products or Contact us with any questions you might have.