WeldPro 360 LRW 10ML Mig Weld Manual Arm
WELDPRO 360 LRW-10ML Mig Welding Arms reduce non-arc time welding-related tasks, shop floor clutter, and safety hazards.  The WELDPRO 360-10ML provides complete coverage anywhere within a 40' diameter sem-circular welding zone.
The WELDPRO 360 LRW-10-ML comes with two arms; a primary arm and a secondary arm.  The primary arm is the short arm which is attached to the column-mounted pivot assembly.  The pivot assembly has a maximum of 192° of semi-circular rotation. This provides complete coverage within a 40' diameter semi-circle when using a 15' Mig welding gun.  
Weld process controls are placed at the end of the boom arm within easy reach of the operator reducing time spent walking back and forth to make weld setting changes.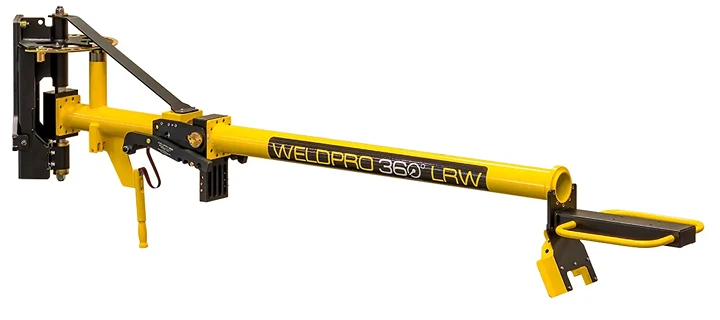 Part of the innovative WeldPro line, this model comes with a unique articulating joint assembly.  It connects both primary and secondary arms and allows the operator to manually raise and lower the secondary arm up to 7'-8'.  This gives you an overall vertical reach of 21'-6" when raised to the top setting when installed with a standard mounting height of 8' above the floor.  Arm rotation for the primary arm and the raising and lowering of the secondary arm is done manually.
The WELDPRO 360-LRW-10ML is designed so that the customer can install their wire feeder and power supply of choice.
The sleek design of the WELDPRO 360-LRW-10ML makes for a clean, organized welding cell by providing containment of hoses, cables for gas, power cables, and the wire feeder within the tubular welding arms. No more dangling cables or cords hanging from the arm or laying on the shop floor.  Shop floor clutter is eliminated, and employee safety, motivation, and productivity are increased.
WELDPRO 360 LRW-10ML Offers Productivity Advantages
Controls are within arm's reach of the operator for Welder and Wire Feeder settings and Arm rotation and height adjustment
Reduced time spent on non-welding activities
Clean, organized welding cell eliminates shop floor clutter
Increased operator safety, motivation, and productivity
WELDPRO 360 LRW-10-ML Standard Features 
192 degrees of bi-directional rotation
Boom Reach - Anywhere within a 20' diameter semi-circle
Welding Reach - Anywhere with a 40' diameter semi-circle with 15' Mig gun
The secondary Arm raises and lowers a total of 7'-8"
There are 4 preset vertical positions for raising and lowering the Secondary Arm - Position 1 - 58" down, Position 2 - 32" down, Position 3 - level with primary arm, Position 4 - 36" up
Maximum vertical reach 21'-6" with 15' Mig Gun
Rotation of the Primary Arm and raising and lowering of the Secondary Arm is done manually
Double Articulated Boom - Eliminates dead zones
Conduit, .035-.065 Wire Liner
Powder Coated Finish
WELDPRO 360 LRW-10-ML Options
Andersen supplied welding equipment
425090 Integrated Fume Extraction Systems that move with the welding arm.
Fume Extraction Guns – Air or Water Cooled
423314 Welding Wire Enclosures for 44 or 60 Lb spools – keeps dust and dirt out of wire.
423568 Floor Mounted Column - 8' Height under Welding Arm
423853 MOBILE BASE, WP360-LRW - 58" SQ x 119" H - includes:
422961 ASM, Gas Cylinder Mount
WeldPro 360 LRW-10ML brochure